Footprints on Mars
Posted on August 7, 2012 by Stephen Smith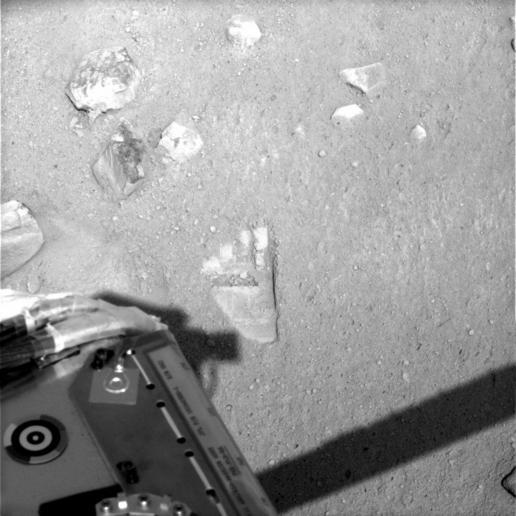 Trenches cut in the Martian soil by the robot scoop onboard the Phoenix lander.

August 08, 2012
The significance of life on other planets leaves many unanswered questions.
http://www.thunderbolts.info/wp/2012/08 ... s-on-mars/
Note: 32 years ago the managing editor's father speculated about the possibility and significance of extraterrestrial life.
The universal feeling that man is unique has been challenged by the final photographs sent by Mariner IV just before her solar energy package failed. The last twelve photographs showed the usual Martian landscape and a set of footprints clearly discernible in the Martian dust.
Scientists and government leaders from all over the world are gathering to discuss what action is to be taken. The Communist Bloc Countries, headed by the USSR, are considering a joint venture to land a large exploration party on Mars within the next year. The United States, backed by her allies, is opposed to this plan; preferring to orbit a space station for observation and communication. Whatever decisions are made as to the course of action, questions arise that need to be answered.
The fact that the footprints were not discovered until just before the power pack went dead has led some scientists to deliberate that it was a purposeful act on the part of the owner of the footprints. Mariner IV has been on the Martian surface for the past twelve months, an obvious intruder to any inhabitants. Was it an accident or was it an intentional act that caused them to wait this long to make their presence known?
Theologians have been expounding for two thousand years that man is unique in the universe, made in the image of God. It is clearly evident from the broad, three-toed footprints that whatever left those tracks was definitely not in the image of man. Unless other explanations can be found, it is certain that Christians (and other religious groups) will have to alter their way of thinking and admit to the possibility that they are not alone in the universe. Two questions come to mind: Are the creatures on Mars capable of thought and reason; are they made in the image of God?
A complete exploration of Mars is imminent. The question now is, how do we explore it? Do we go in peace or do we go armed to the teeth ready to do battle with whatever or whomever we may encounter? Certainly the first expedition will be armed to some extent, but how far are we willing to go in the use of arms? If the history of exploration on the North American continent is an example, then any inhabitants of Mars will not stand much of a chance. The Inca, the Aztec, and the American Indian can attest to that.
Vital questions remain to be answered. Is there an intelligent race on Mars, or were the footprints left by a member of another exploring party from a civilization beyond our galaxy? If this is the case, what are they doing on Mars? It would not have taken them long to realize by the existence of Mariner IV that another intelligent race was close at hand. Finally, what will their intentions be?
The final answer to any situation cannot be known until all the facts are known. Let us hope that after we have analyzed all the facts and have determined what course of action to take that the final solution will be a mutual one for us and whomever we encounter on Mars.
Written in May 1976
Richard H. Smith
(1932—2002)
Space junkies try to explain mysterious image in photo from Mars rover
By Ron Recinto
|
The Lookout – Wed, Aug 8, 2012
http://news.yahoo.com/blogs/lookout/spa ... 19541.html
A mysterious blotch that appeared along the horizon in a photo from the surface of Mars stirred speculation about what it might be, as two hours later it was gone.
One image from the Curiosity rover as it landed on the fourth planet from the sun showed a "faint but distinctive" image on the horizon, the Los Angeles Times reported. However, a subsequent batch of images sent from the unmanned rover two hours later showed no trace of the blotch.
One theory put forth by space enthusiasts in the L.A. Times story is that Curiosity had somehow snapped a photo of part of the spacecraft that escorted the rover through the Martian atmosphere crash-landing a distance away.
[Slideshow:
Latest images from Mars
]
But to capture that image "would be an insane coincidence," one engineer told the newspaper.
Others say more feasible possibilities would be simply dirt on the lens, or maybe a dust devil twisting far in the distance.
But as more images start to pour into NASA, more is being learned about the rover's pinpoint landing.
In what some are dubbing the "crime scene" photo of the landing zone taken by another satellite, Curiosity is seen on the ground along with pieces of the spacecraft that broke apart as planned on the way to the surface. The photo reveals the heat shield that protected the rover as it entered the atmosphere and the parachute that helped ease the vehicle onto Mars. Also seen are parts of the "sky crane," the spacecraft that carried the rover to the planet, the article noted.
Could the sky crane crashing be the blotch? From another L.A. Times story:
The crime scene photo showed that the sky crane had crash-landed, as designed, about 2,000 feet away—and in the same direction that Curiosity's camera was pointed when it snapped the first photo showing the blotch. The new satellite photo also showed that the sky crane, when it crash-landed, kicked up a violent wave of dirt that had scarred the surface of Mars.
Curiosity mission manager Michael Watkins told the Times if it were the case, "it would be incredibly cool. ... A crazy, serendipitous thing."
Images from Mars have always fueled curiosity.
Remember what folks thought was a huge face on Mars? An image from Viking 1 in 1976 that appeared to show a rock formation with eyes, a nose and a mouth? Later high-resolution imaging and side-by-side analysis proved the "face" to be a mesa, like the flat-topped natural formations found in the southwestern U.S.
As the Curiosity rover readies to begin the scientific discovery part of the mission, maybe more interesting things will be revealed.
geen sporen in het zand...
geen camera op een stokkie...
swampgas on mars ?
[YES]Equality of Opportunity
-
[NO]Equality of Outcome
[quote=""fr3bzy" post=59866"]
geen sporen in het zand...
geen camera op een stokkie...
swampgas on mars ?[/quote]
Gobi woestijn...je kijkt via streetview...
illuminati of my own reality
Rover's Laser Instrument Zaps First Martian Rock
This composite image, with magnified insets, depicts the first laser test by the Chemistry and Camera, or ChemCam, instrument aboard NASA's Curiosity Mars rover. Image credit: NASA/JPL-Caltech/LANL/CNES/IRAP
›
Full image and caption
August 19, 2012
Mars Science Laboratory/Curiosity Mission Status Report
http://www.jpl.nasa.gov/news/news.cfm?r ... ce=2012248
PASADENA, Calif. - Today, NASA's Mars rover Curiosity fired its laser for the first time on Mars, using the beam from a science instrument to interrogate a fist-size rock called "Coronation."
The mission's Chemistry and Camera instrument, or ChemCam, hit the fist-sized rock with 30 pulses of its laser during a 10-second period. Each pulse delivers more than a million watts of power for about five one-billionths of a second.
The energy from the laser excites atoms in the rock into an ionized, glowing plasma. ChemCam catches the light from that spark with a telescope and analyzes it with three spectrometers for information about what elements are in the target.
"We got a great spectrum of Coronation -- lots of signal," said ChemCam Principal Investigator Roger Wiens of Los Alamos National Laboratory, N.M. "Our team is both thrilled and working hard, looking at the results. After eight years building the instrument, it's payoff time!"
ChemCam recorded spectra from the laser-induced spark at each of the 30 pulses. The goal of this initial use of the laser on Mars was to serve as target practice for characterizing the instrument, but the activity may provide additional value. Researchers will check whether the composition changed as the pulses progressed. If it did change, that could indicate dust or other surface material being penetrated to reveal different composition beneath the surface. The spectrometers record intensity at 6,144 different wavelengths of ultraviolet, visible and infrared light.
"It's surprising that the data are even better than we ever had during tests on Earth, in signal-to-noise ratio," said ChemCam Deputy Project Scientist Sylvestre Maurice of the Institut de Recherche en Astrophysique et Planetologie (IRAP) in Toulouse, France. "It's so rich, we can expect great science from investigating what might be thousands of targets with ChemCam in the next two years."
The technique used by ChemCam, called laser-induced breakdown spectroscopy, has been used to determine composition of targets in other extreme environments, such as inside nuclear reactors and on the sea floor, and has had experimental applications in environmental monitoring and cancer detection. Today's investigation of Coronation is the first use of the technique in interplanetary exploration.
Curiosity landed on Mars two weeks ago, beginning a two-year mission using 10 instruments to assess whether a carefully chosen study area inside Gale Crater has ever offered environmental conditions favorable for microbial life.
ChemCam was developed, built and tested by the U.S. Department of Energy's Los Alamos National Laboratory in partnership with scientists and engineers funded by the French national space agency, Centre National d'Etudes Spatiales (CNES) and research agency, Centre National de la Recherche Scientifique (CNRS).
NASA's Jet Propulsion Laboratory, a division of the California Institute of Technology, Pasadena, manages the Mars Science Laboratory Project, including Curiosity, for NASA's Science Mission Directorate, Washington. JPL designed and built the rover.
More information about Curiosity is online at
http://www.nasa.gov/msl
and
http://mars.jpl.nasa.gov/msl/
. You can follow the mission on Facebook at:
http://www.facebook.com/marscuriosity
and on Twitter at:
http://www.twitter.com/marscuriosity
.
More information about ChemCam is available at
http://www.msl-chemcam.com
.
Curiosity maakt eerste ritje op Mars
23 augustus 2012 02:16
http://www.nu.nl/wetenschap/2890732/cur ... -mars.html
WASHINGTON - De Amerikaanse Marsverkenner Curiosity heeft woensdag zijn eerste ritje gemaakt op de rode planeet: 3 meter vooruit, een draaiing en 2 meter terug.
Dit heeft het Amerikaanse ruimtevaartagentschap NASA laten weten. De wetenschappers zijn enthousiast. ,,Wij hebben een zwerver gebouwd, maar als hij niet kan zwerven, hebben we niets bereikt'', aldus een zegsman van het project.
De eerste testrit heeft een kwartiertje geduurd. Curiosity landde ruim 2 weken geleden op Mars. De Curiosity staat nu precies naast zijn eerste onderzoeksobject: de plek van zijn landing. Daar zijn door de landing de rotsen van Mars blootgelegd.
Tijdens het korte ritje nam Curiosity ook al foto's, met name van de sporen die hij achterliet op Mars. Over drie weken rijdt Curiosity naar een plek waar drie verschillende terreintypes bij elkaar komen, om daar onderzoek te doen.
De Amerikaanse ruimterobot Curiosity is oostwaarts vertrokken naar een plaats waar de robot zal beginnen met boren, zo heeft de Nasa woensdag bekendgemaakt.
30 augustus 2012
Op de 22ste Martiaanse dag na de landing op de Rode Planeet reed Curiosity dinsdag zo'n 400 meter, verder dan de eerste twee ritjes samen. Volgens de NASA verliep de rit zoals gepland.
De bestemming is een zone met de naam Glenelg. Daar doorkruisen drie types terrein elkaar.
Een aantal foto's gemaakt door de ruimterobot:
http://www.robot161.nl/2012/08/curiosit ... oor-boren/
NASA Mars Rover Targets Unusual Rock on Its Journey
09.19.12
http://www.nasa.gov/mission_pages/msl/n ... 20919.html
PASADENA, Calif. -- NASA's Mars rover Curiosity has driven up to a football-size rock that will be the first for the rover's arm to examine.
Curiosity is about 8 feet (2.5 meters) from the rock. It lies about halfway from the rover's landing site, Bradbury Landing, to a location called Glenelg. In coming days, the team plans to touch the rock with a spectrometer to determine its elemental composition and use an arm-mounted camera to take close-up photographs.
Both the arm-mounted Alpha Particle X-Ray Spectrometer and the mast-mounted, laser-zapping Chemistry and Camera Instrument will be used for identifying elements in the rock. This will allow cross-checking of the two instruments.
The rock has been named "Jake Matijevic." Jacob Matijevic (mah-TEE-uh-vik) was the surface operations systems chief engineer for Mars Science Laboratory and the project's Curiosity rover. He passed away Aug. 20, at age 64. Matijevic also was a leading engineer for all of the previous NASA Mars rovers: Sojourner, Spirit and Opportunity.
Curiosity now has driven six days in a row. Daily distances range from 72 feet to 121 feet (22 meters to 37 meters).
"This robot was built to rove, and the team is really getting a good rhythm of driving day after day when that's the priority," said Mars Science Laboratory Project Manager Richard Cook of NASA's Jet Propulsion Laboratory in Pasadena, Calif.
The team plans to choose a rock in the Glenelg area for the rover's first use of its capability to analyze powder drilled from interiors of rocks. Three types of terrain intersect in the Glenelg area -- one lighter-toned and another more cratered than the terrain Curiosity currently is crossing. The light-toned area is of special interest because it retains daytime heat long into the night, suggesting an unusual composition.
"As we're getting closer to the light-toned area, we see thin, dark bands of unknown origin," said Mars Science Laboratory Project Scientist John Grotzinger of the California Institute of Technology, Pasadena. "The smaller-scale diversity is becoming more evident as we get closer, providing more potential targets for investigation."
Researchers are using Curiosity's Mast Camera (Mastcam) to find potential targets on the ground. Recent new images from the rover's camera reveal dark streaks on rocks in the Glenelg area that have increased researchers' interest in the area. In addition to taking ground images, the camera also has been busy looking upward.
On two recent days, Curiosity pointed the Mastcam at the sun and recorded images of Mars' two moons, Phobos and Deimos, passing in front of the sun from the rover's point of view. Results of these transit observations are part of a long-term study of changes in the moons' orbits. NASA's twin Mars Exploration Rovers, Spirit and Opportunity, which arrived at Mars in 2004, also have observed solar transits by Mars' moons. Opportunity is doing so again this week.
"Phobos is in an orbit very slowly getting closer to Mars, and Deimos is in an orbit very slowly getting farther from Mars," said Curiosity's science team co-investigator Mark Lemmon of Texas A&M University, College Station. "These observations help us reduce uncertainty in calculations of the changes."
In Curiosity's observations of Phobos this week, the time when the edge of the moon began overlapping the disc of the sun was predictable to within a few seconds. Uncertainty in timing is because Mars' interior structure isn't fully understood.
Phobos causes small changes to the shape of Mars in the same way Earth's moon raises tides. The changes to Mars' shape depend on the Martian interior which, in turn, cause Phobos' orbit to decay. Timing the orbital change more precisely provides information about Mars' interior structure.
During Curiosity's two-year prime mission, researchers will use the rover's 10 science instruments to assess whether the selected field site inside Gale Crater ever has offered environmental conditions favorable for microbial life.
For more about Curiosity, visit:
http://www.nasa.gov/msl
and
http://mars.jpl.nasa.gov/msl
. You can follow the mission on Facebook and Twitter at:
http://www.facebook.com/marscuriosity
and
http://www.twitter.com/marscuriosity
.
Guy Webster / D.C. Agle 818-354-5011
Jet Propulsion Laboratory, Pasadena,Calif.
guy.webster@jpl.nasa.gov
/
agle@jpl.nasa.gov
Dwayne Brown 202-358-1726
NASA Headquarters, Washington
dwayne.c.brown@nasa.gov
2012-295
'Bright Object' On Mars Actually Plastic from Curiosity Rover
by SPACE.com Staff
Date: 09 October 2012 Time: 03:40 PM ET
http://www.space.com/17979-mars-rover-c ... piece.html
A small piece of NASA's Mars rover Curiosity has apparently fallen off into the Red Planet dirt, scientists announced today (Oct. 9).
Curiosity team members spotted the odd bright object on Sunday (Oct. 7) while studying photos of the rover's first Martian soil-scooping activity. Curiosity then spent much of Monday photographing the scrap further, allowing researchers to determine that it likely came off the 1-ton rover — though they're still not sure what exactly it is, or if its absence will affect Curiosity's mission appreciably.
"The rover team's assessment is that the bright object is something from the rover, not Martian material," mission team members wrote in an update today. "It appears to be a shred of plastic material, likely benign, but it has not been definitively identified."
Researchers will continue to investigate the object for another day before deciding whether or not to resume processing of the soil sample, which remains in Curiosity's scoop, the update added.
Yesterday's close-up photos of the mysterious sliver were shot with the Remote Micro-Imager of Curiosity's Chemistry and Camera instrument, or ChemCam. The rover will likely take more pictures of its surroundings today with its workhorse Mast Camera, researchers said.
This past weekend's activities were the first test of Curiosity's soil-scooping system, which is located at the end of its 7-foot (2.1 meters) robotic arm.
Samples from the scoop are designed to be dropped into two instruments on the rover's body known as Sample Analysis at Mars (SAM) and Chemistry and Mineralogy (CheMin). SAM and CheMin are two of the main tools Curiosity will use to determine if Mars could ever have supported microbial life.
The first few scoops are meant to clean out Curiosity's sampling system, to ensure that any material delivered to SAM and CheMin in the future is purely Martian, without any oily residues left over from the rover's construction and assembly here on Earth, researchers have said.
The $2.5 billion Mars rover Curiosity landed inside the Red Planet's huge Gale Crater on Aug. 5 and is expected to spend the next two years or more roving about its Martian environs. At about the size of Mini Cooper car, Curiosity is the largest robotic rover ever sent to explore another planet.
Follow SPACE.com on Twitter @Spacedotcom. We're also on Facebook & Google+.
This photo, taken by the Curiosity rover's ChemCam instrument on Oct. 8, 2012, shows a close-up view of the piece (visible slightly below and to the left of the photo's center) that apparently fell off the robot.
CREDIT: NASA/JPL-Caltech